Las casas de Pablo Neruda
en Isla Negra y Valparaíso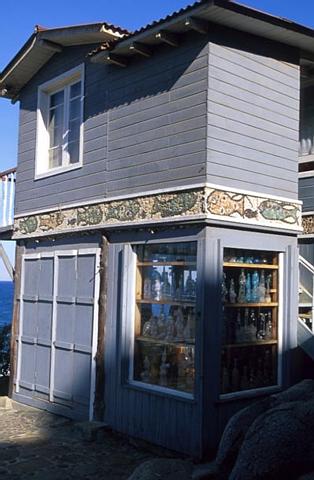 Saliendo de Santiago tomaremos la Ruta del Sol y cruzaremos el fértil Valle Central. Llegaremos a Isla Negra para visitar la casa-museo de Pablo Neruda. Continuaremos por el camino costero para apreciar los balnearios de El Quisco y Algarrobo. Después, atravesando el valle vitivinícola de Casablanca llegaremos a Viña del Mar. Recorreremos este hermoso balneario y, por supuesto Reñaca, su principal playa. Continuaremos nuestro recorrido hacia el principal puerto de Chile, Valparaíso, para apreciar el muelle Prat, el mirador del Paseo 21 de Mayo y La Sebastiana, casa museo de Pablo Neruda.
Salida desde su hotel. Incluye entrada a los museos. Los pasajeros dispondrán de tiempo para almorzar. No incluye alimentos. Recorrido de 8 horas aproximadamente dependiendo del tráfico.
Leaving Santiago by the Ruta del Sol highway we will visit Pomaire, famous handcraft center located in the heart of the fertile Central Valley. Continuing thru a coastal road we will reach Isla Negra and visit Pablo Neruda's house and museum. We will continue thru a seaside road passing thru the summer resorts of El Quisco and Algarrobo. Crossing the Casablanca Valley, known by its winerys, we will arrive to Viña del Mar. After a tour of this resort and of course, Reñaca beach, we shall continue to Valparaíso, walk along the pier and climb up to the Artillería hill to overlook the bay from the Paseo 21 de Mayo balcony. Afterwards we will visit La Sebastiana, which used to be Pablo Neruda's house at the port and nowadays an interesting museum.
Departure from your hotel. Includes fee to both museums. Passengers will have time to lunch at their own expense. The tour takes about 8 hours depending on trafic conditions.

Saíndo de Santiago, tomaremos a Rodovía do Sol e cruzaremos o fértil Vale Central. Chegaremos à Isla Negra, onde você visitará a casa-museu de Pablo Neruda. Continuaremos pelo camino costeiro para apreciar os balneários de El Quisco e Algarrobo e, atravessando o Vale de Casablanca, chegaremos a Viña del Mar. Depois de conocer esta linda cidade, continuaremos até Valparaíso para apreciar o cais Prat, o mirante do Passeio 21 de Mayo e La Sebastiana, casa-museu de Pablo Neruda.
Saida de seu hotel em Santiago. A ecursão inclui a entrada ao museu. Não inclui alimentação. Os passageiros terão tempo para almorçar. Sua duraçã é de aproximadamente 8 horas.
El transporte de los pasajeros es proporcionado por


Empresa adherida al Programa Adulto Mayor de Sernatur.