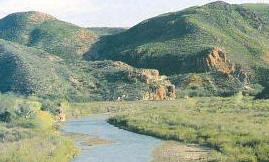 The state of Sonora at the north western part of México and south of the state of Arizona, USA is a unique and unspoiled destiny of México.
You will find beautiful unpolluted beaches bathed by the Sea of Cortés - surrounded by the Sonora Desert and the western slopes of the Occidental Sierra Madre mountains. Safe and modern cities with all the amenities and services you may demand. Old towns covered with legends and history, where the past is suspended and hasn't change as the years pass by.
Sonora is also the ideal place for bird and cetacean watching - as well as for sport fishing, either on its extensive coastline or in its lakes and reservoirs.
An excellent cuisine, typical dishes, music and dances of the Yaqui, Mayos and Seris ethnics are some of the attractions Sonora offers you.
All this with first class services and a warm welcome awaits the visitor for an unforgotten stay.
Copyright 2002 - Design by AFK WebHosting ®